How to choose a beautiful floor to help refurbish the kitchen
One of the most difficult when refurbishing the kitchen is to choose a type of floor. Not only consider aesthetic but also durability and impact resistance such as waterproof, insulation, scratch resistance when falling objects.
So what types of floors are best, most suitable for the kitchen and why? Let's find out with AnPro in this article!
SPC flooring
SPC flooring is the best choice for kitchens because it is waterproof and does not shrink or expand when the temperature changes suddenly, so the floor will not warp in kitchen conditions. Besides, SPC flooring also has scratch resistance when used for spaces that will have high traffic.
SPC flooring also has the advantage of being relatively quiet. It will be better for the user's joints when standing a lot and for a long time in the kitchen.
Another outstanding advantage of SPC flooring is its affordable price and easy installation. You can even save money by installing it yourself at home.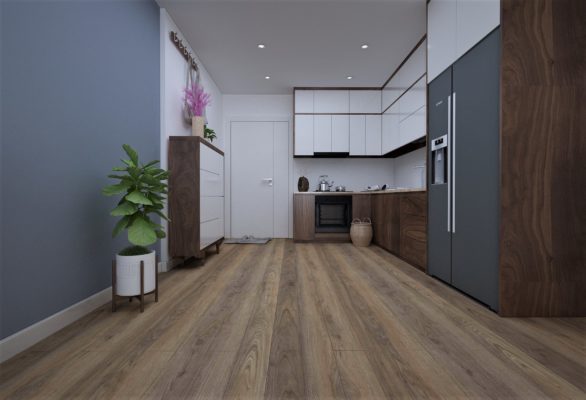 On the market today, AnPro SPC flooring is a popular choice for many customers due to its reasonable price, durability, and aesthetics. With diverse designs, many unique textures such as wood grain, stone grain, carpet pattern, etc., will help you easily choose. Besides, you will not have to worry when AnPro SPC flooring has a durability of up to 20-30 years, can be easily removed and reused up to 80%.
In particular, AnPro SPC flooring meets international standards such as FloorScore®, CE Marking when it does not contain harmful compounds, does not emit formaldehyde and allergens, and is safe for users' health.
Ceramic tile and natural stone floor
Ceramic tile or natural stone is the most popular and durable floor for the kitchen with advantages such as waterproof, high scratch resistance. However, this type of floor has sturdy features, so it is not safe for users' health when we have to stand for a long time or cook for hours in the kitchen.
Economically, because this is a rather expensive material, the cost will be relatively high, depending on what kind of natural stone you use? What is the floor area?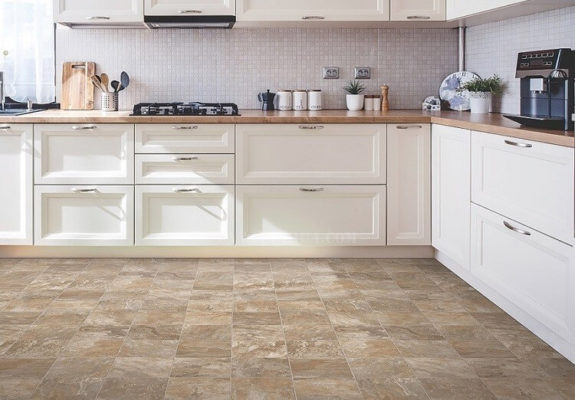 The process of installing ceramic tile and natural stone floors is also complicated and time-consuming because of relatively heavy material, difficult to transport, and must be finished pointing and waiting dry before use.
Natural wooden floor
Natural wood floors have a unique absorption structure. This structure is resistant to water and moisture. Perhaps it is the best flooring when the same durability as ceramic tiles and natural stone, smooth, and aesthetics of SPC flooring, and is very durable over time.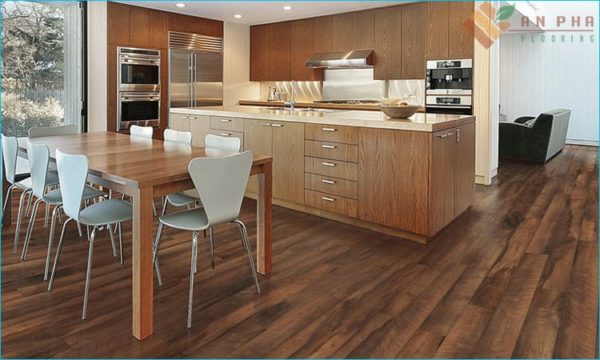 However, natural wood floors are made from high cost and difficult to reproduce materials, so they are often expensive. The exploitation of natural wood can deplete resources and affect the environment. In addition to having a high cost, natural wood floors also have pointed to note when using as frequent maintenance, low cleaning ability, easy discoloration before external influences.
Laminate flooring
Laminate flooring is popular due to its optimal cost. In the past, laminate flooring was always the first choice to replace natural wood floors because of its cheapness and equivalent aesthetic.
However, laminate flooring is easy to degrade when installing high humidity and heat in the kitchen. Engineered wood is easy to expand and warp in wet environments. If your kitchen is not too humid, they can still be the material you should refer to when installing in the kitchen.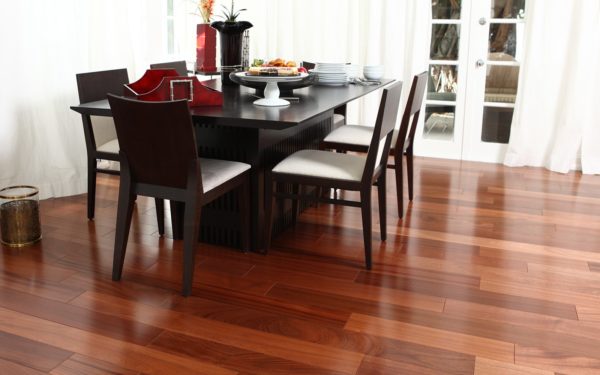 Laminate flooring uses adhesives, which contain volatile organic compounds (VOCs), in the manufacturing process.
These volatile organic compounds can be released when exposed to high temperatures for long periods, known as exhaust gas, negatively affecting your indoor air quality.
So when choosing an engineered flooring, make sure to choose one marked as free of VOCs.
Above are the comments and notes on how to choose the types of flooring for the kitchen. You can find a suitable kitchen floor depending on your preference and economic conditions.
Proud to be a reputable and safe flooring supplier for health, AnPro brings comfortable and modern interior solutions to every Vietnamese family. As long as you believe, all flooring problems will be consulting by a professional team from AnPro.
For advice on the best designs and interior products from AnPro, please contact:
Hotline: 0888 71 75 76
Fanpage: https://www.facebook.com/anpro.nhuakientruc
Email: info@anprostyle.com